Excitement rented the air at Home of the Boy Child on 20th of April 22, 2023, as curtains fell on the first term of 2023. Our young morans concluded the term in high spirits and couldn't just wait to reunite with their families for a time of rest, bonding, and rejuvenation in readiness for term two.
The break is also a time for the boys to take an incisive look at their academic performance and a myriad of extracurricular activities the school engages in.
Our prayer is that this break will be meaningful. Let it be a time of rest, refocusing, and putting things in the right perspective.
There are quite a number of things that made this term memorable and special to the boys, staff, parents, and the entire Merishaw fraternity.
Here is a quick glance at the things that stood out the most.

1. The Global Peace Foundation Kenya Awards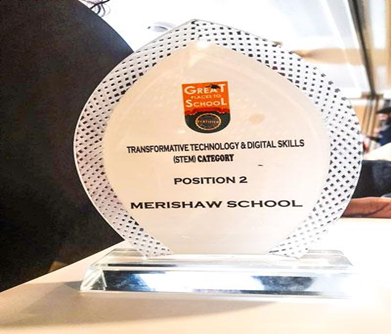 Although in its budding stages, Merishaw School is already causing ripples in the field of academia.
During this year's 3rd edition of the Great Places to School annual awards, we emerged 2nd in the Transformative Technology and Digital Skills - STEM category.
The Cabinet Secretary for Education Hon. Ezekiel Machogu was the chief guest during the awards ceremony that was held on 28th January 2023, at the Panafric Hotel.
Merishaw School is set for technology as its next priority frontier and our win is indicative of that trajectory.

2. St. John's Team Building at Alliance Girls
Over the weekend several groups represented the school in various competitions and external engagements. The St. John's Club attended a training and team-building event at Alliance Girls High School.
The capacity-building event entailed practical activities that emphasized working as a unit, responding to adverse situations, leadership training, motivation, and developing a competitive spirit.
While at it, the boys had a lot of fun and also got the opportunity to interact with students from other schools including Alliance Girls, Aquinas, Ngara Girls, and Kangemi High School.

3. The Weekend Challenge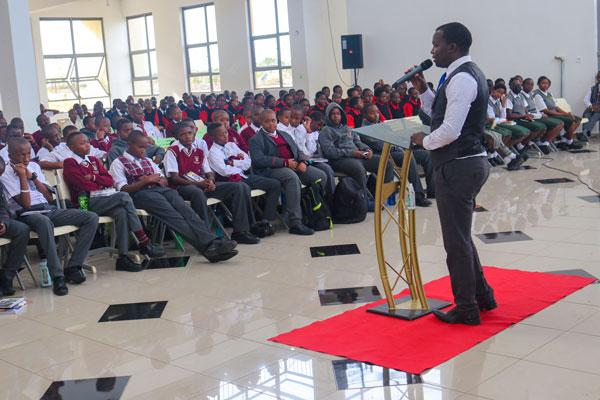 The Weekend Challenge themed Founded in the Word of God (Psalm 119:11) also took place this term. The boys were challenged to take every day that comes as an opportunity to become better versions of themselves. 
Kubamba (Citizen TV), Liberty Gospel Center, and MTS (More Than a Song) ministry ministered alongside our CU team. Attending schools included Starehe Girls, Statehouse Girls, Olkejuado Boys, and Isinya Boys.

4. The World Scholars Cup Nairobi Rounds I and II at Light International School and Brookhouse Karen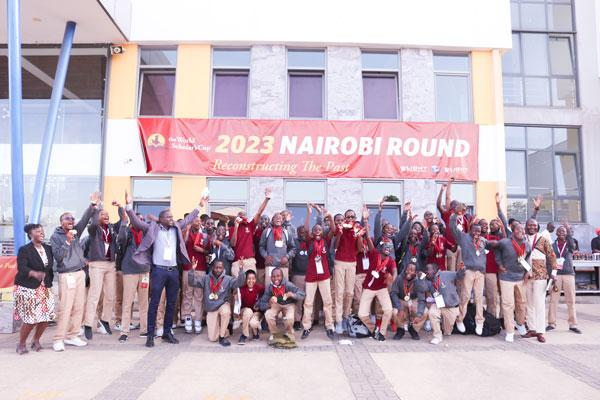 The World Scholar Cup Nairobi Rounds I and II took place at Light International School and Brookhouse School, Karen respectively.
We presented 51 boys for round I and 45 for round II. The following were the categories for the competitions; debate, scholars' bowl, collaborative writing, and the scholars' challenge.
Our boys did exemplarily well as 12 of them scooped 6 medals each in different categories. In total, they won a total of 167 medals. The icing on the cake was when one of the teams comprising Barry Gabriel, Chibu Obieche, and Johnstone Mwangala brought home a cup for the 1st runner's position in the collaborative writing category during the Brookhouse round.
Participating schools in the two rounds included Alliance High School, Brookhouse School, Karen, and Braeburn School Gitanga Road. Others are Braeside School, St. Andrew's School Turi, St. Christopher's International School, Hillcrest International School, Moi High School Kabarak, Brookhurst International School, Naisula School, and Mount Kenya Academy.
Kudos to our boys for making us proud. As term two approaches, the boys that qualified will swing into action as they prepare for the global round coming up in August this year in Bangkok. As they make adequate preparations to do us proud on a global scale, we pray for the very best.

5. Regionals Science Fair at Tenwek High School, Bomet
The regional science fair competitions were held this year from 04.04.2023 to 09.04.2023 at Tenwek High School, Bomet County. Two of our boys who have come up with a computer science project titled The Global Eye participated in the fair. 
Their innovation is a CCTV enhancement technology where in a school setup, the system is able to capture students' faces and display details such as admission number, class, and name in real-time.
The students used the Python programming language which supports machine learning under the visual studio code text editor to develop the innovation. This pioneering project was presented by Joshua Indire and Cyril Baraka under the patronage of Mr. Ogeke Dennis (Mwalimu Ogeke).
You can watch the Globay Eye presentation on our YouTube channel. 

6. Regional Swimming Competitions in Eldoret

This event was held in Eldoret from 04.04.2023 to 09.04.2023. Gerald Kuduli, Paul Mungai, and Arvin Arthur represented Kajiado County in the competition in the following categories.
Gerald Kuduli – Junior Backstroke 50M
Paul Kamau – Junior Freestyle
Arvin Arthur – Junior Butterfly
Although all three boys put on a spirited fight and performed well in all their hits, Paul Kamau emerged top and will be representing the Rift Valley region in the national swimming competition.

7. The Champions League Tournament – Merishaw Edition


The Easter Holiday weekend at Home of the Boy Child was a sporty and fun-filled one as we held the Champions League Tournament Merishaw School Edition.
Congratulations to the following teams and individuals for putting up a spirited fight. We are proud of you for delivering thrilling and entertaining matches.

Form 1
Winners - Manchester City
Runners up - Liverpool
3rd Place - Barcelona
Forms 3&2
Winners - Ajax
Runners Up - Dortmund
Third Place - Liepzig
Individual Awards

Form 1
Top Scorer - Gabriel Kimutai (Napoli)
Best Player - Ronald Kinoti (Liverpool)
Best Keeper - Brian Karani (Manchester City)

Forms 3 & 2
Top Scorer - Kyalan Macharia (Dortmund)
Best Player - Liban Dida (Ajax)
Best Keeper - Darren Gitonga (Ajax)
Special shout-outs to our parents who came out in impressive numbers to cheer and support the boys.
Best Cheer Leaders Award
Mama Myles

Here's the video highlight of the day. 

Parting shot
Without a doubt, the term had its fair share of ups and downs but in the true sense of moran spirit, the boys held their necks high and sailed through the term with relative ease.
Patience is one of the virtues that the boys learnt this term, especially the grade sevens and form ones, many of them were not familiar with the intricacies of a boarding school. As the old adage goes, "Patience is the ability to idle your motor when you feel like stripping your gears."
From the management and staff, we congratulate our boys for holding on tight and squeezing all the juice out of this term. You have held the fort and given the term your best run.